Hi and welcome to Mastering Explained!
Through the years, we have delivered thousands of masters to happy clients all over the world from our company Stockholm Mastering.
Now we have decided to share everything we have learnt over the years.
We want to give you an extensive insight into our thought process, strategies, methods and mindset. Our goal is to fill this site with everything we know about audio mastering.
Interested? You are very welcome to join us!
Maybe you're producing, recording or mixing, but you're a bit baffled by that last step – mastering.
The traditional way to get a great sounding master is to send your mix off to mastering, and then wait for the results. If you have the time and money, using a professional mastering engineer will indeed give you great results.
But what if you want to do it all by yourself? Maybe you're a mixing engineer who wants to be able to deliver the final product to your clients. Maybe you run a label and want to keep the costs down while still releasing great sounding music. Maybe you want to have all the knowledge about the process, even if you choose to hire a mastering engineer. Or maybe you're a do-it-yourself kind of person, wanting full control over your music.

That's why we've created Mastering Explained. Here we are sharing our knowledge about mastering. We ultimately want everything we know about mastering to be available on this site. And we're chipping away on it, blogpost by blogpost, video by video, course by course.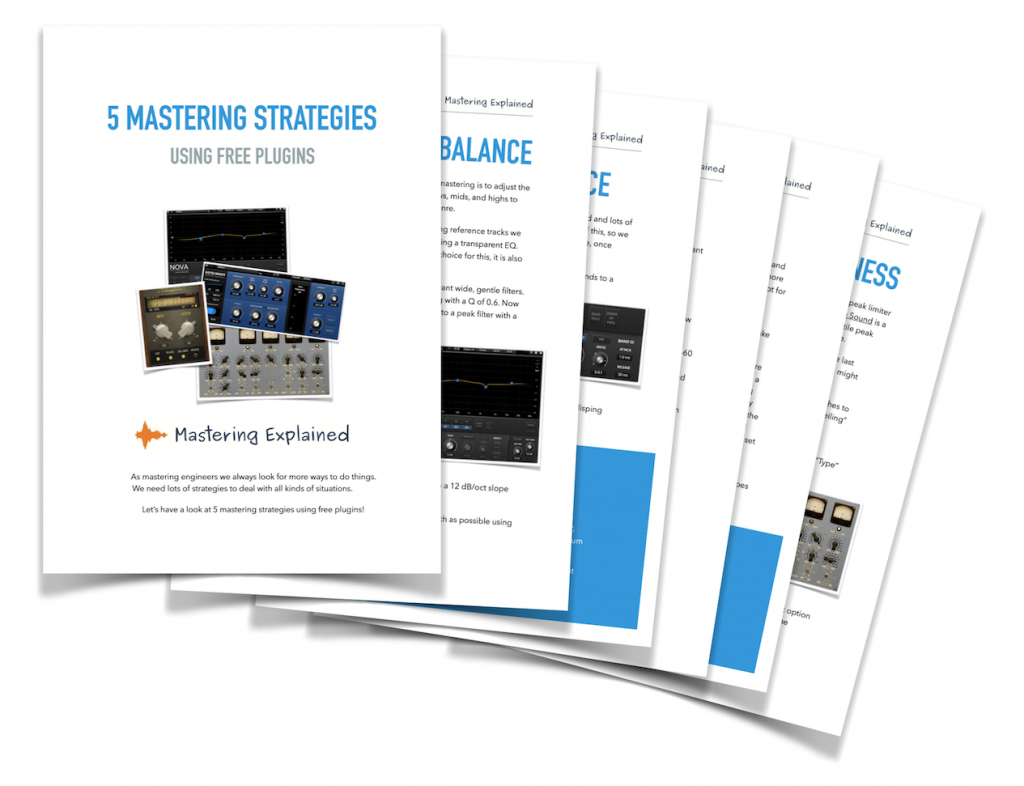 Get started learning about mastering with our free guide!
Learn 5 useful mastering strategies using free plugins!
Whether you're mastering, mixing or doing other audio related work, this pdf will help you achieve better results!
Sign up to our email list below to receive your free pdf. You can of course unsubscribe at any time.
When subscribing you will receive our newsletter, occasional information about our products and offerings, as well as educational material and other free stuff. We won't send spam or sell your email address and you can unsubscribe at any time.